Introducing the NEW "Back Trac"
The best foam roller for at-home back pain relief in your mid-back and full-back is the "Back Trac" by Creatrix Solutions. As you roll your back on the Back Trac, you can hear popping and clicking as your spine goes into better alignment. The deep groove of the Back Trac allows your spine to float comfortably as the foam roller relaxes the muscles and ligaments of your back. It is like an at-home massage for your spine, and you can take it anywhere!
Why Do You Need the Back Trac? Throughout the growth and development of the spine, accumulated trauma and repetitive motions modify the global alignment of vertebrae with adaptive spinal segments. Unfortunately, the adaptive posture becomes painful, limits the range of motion, and reduces endurance and athletic ability. If not corrected, joint discs can be damaged, and vertebral joints can suffer excess wear and tear. This is where the Back Trac is most beneficial and superior to all other types of foam rollers on the market for at-home back pain relief. If you're wondering how to make good posture a habit, we recommend rolling on the Back Trac a few times each morning and evening. Anytime when you need a quick massage, take out your Back Trac to achieve and maintain spinal health!
Why is the "Back Trac" THE BEST Foam Roller for Mid-Back Pain Relief?
The Back Trac allows your spinal joints to STRETCH! Each vertebra has four joint surfaces (for a total of 364 joints in the spine) that connect to other vertebrae and connect with the spinal discs, ribs, sacrum, skull, and other structures. By lying on the Back Trac and rolling back and forth, your body weight applies pressure to realign your vertebrae. This process stretches the intervertebral joints, opens up the meninges, and reduces pinched nerves, which improves joint health and global alignment. After rolling on the Back Trac, almost everyone will hear their vertebrae pop and feel the realignment so that when you stand up, you will feel taller and straighter! In addition, the instant relief you can feel from your back pain is amazing!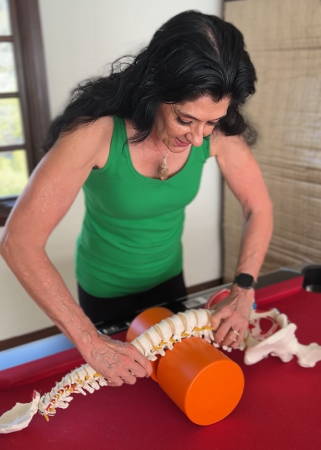 All other foam, plastic, and rubber back rollers on the market are NOT comfortable because they pressure your spine, which can be painful.
The patented, deep groove of the Back Trac guides the vertebrae into a more desirable alignment (which is NOT possible with other rollers) without causing undue pain and stress on the spine.
The deep groove of the Back Trac gives your spinous the room to float, thus protecting your vertebrae, as your muscles and ligaments are allowed to relax and realign.
---
What Size is the "Back Trac?"
The Back Trac is large enough to hold the weight of your body, yet small enough to carry in your hand! So it is excellent to use at home or take on the go for quick and easy back pain relief anywhere!
The patented Back Trac is a six (6) inch diameter roll that is twelve (12) inches long. It has a unique groove in the middle that allows the spinous to float and simultaneously supports the transverse process of the vertebrae. Like all our exercise products, we made the Back Trac based on science and mathematical equations from the research conducted by Dr. John S. Scherger.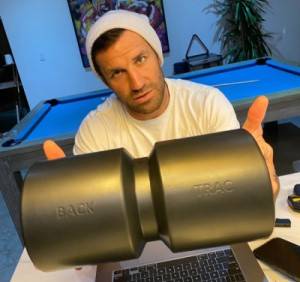 ---
Watch this video on the Back Trac to learn how the Back Trac works and how it can help alleviate the pain in your mid or upper back and your full back.
Combining our foam with the specific groove in the Back Trac encourages process intervertebral joints to stretch (opening up the meninges) to reduce pinched nerves and improve spinal health.
---
Why It Rolls Away Back Pain
Learn from inventor Eileen Durfee how the Back Trac has a patented groove for your spine that works like a train on a track!
The groove allows BOTH the spinous to float WITHOUT PAIN and ALSO catches the transverse process to encourage alignment. By rolling back and forth on it, your body weight allows the vertebrae to realign.
The Back Trac is available in two densities. The orange is the medium-density foam roller, which is excellent for beginners or injuries. Then once the back is in great alignment (or if you wish to improve athletic performance), maroon is the hard density foam roller we recommend.
ORANGE MEDIUM BACK TRAC FOAM ROLLER: If you are in pain or have suffered recent trauma, we recommend beginning with the medium-density Orange Back Trac. It is soft enough to feel comfortable even when suffering back injuries and hard enough to support your weight.
MAROON HARD BACK TRAC FOAM ROLLER: Once you have stabilized, we recommend graduating to the hard-density Maroon Back Trac. The hard density Back Trac quickly stretches and improves the global alignment of the spine, improving athletic ability and endurance.
---
Check out what's being said on social media: #CreatrixCurve #ShapeAway #LetItFloat

Our customers include chiropractors, physical therapists, medical professionals, patients, elite athletes, and more, including Luke Rockhold, Tyson Ross, Nate Diaz, Nick Diaz, Gilbert Melendez, Matt Rife, Taylor Motter, Jet Johnson, Ian Gilbaut, Greg Vaughn, and J L Skinner.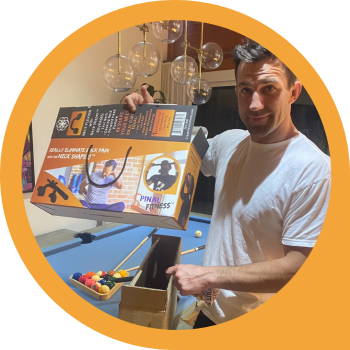 Luke Rockhold, Two-Time World Champion, UFC Fighter
Luke Rockhold uses Creatrix Solutions products, including the Neck Shaper, Foam Rollers, Back Trac, and Power Cushion, to return from injury, avoid surgery, and train for his upcoming fights! Go Luke!!!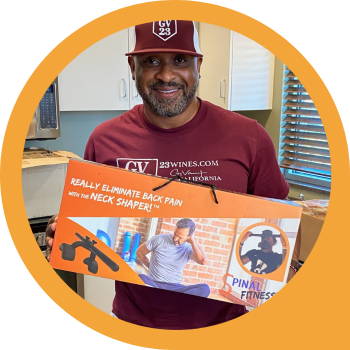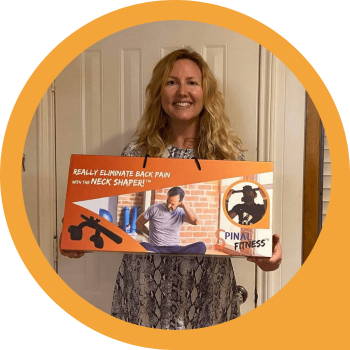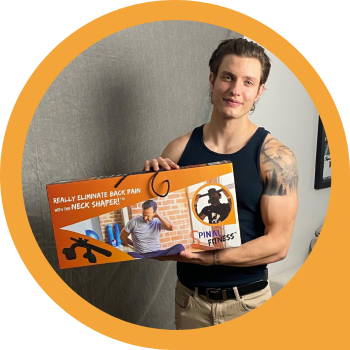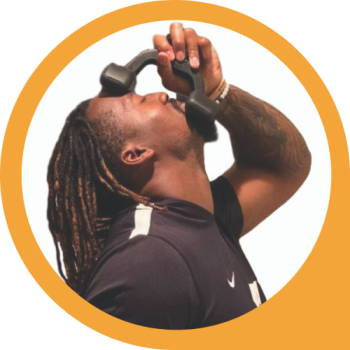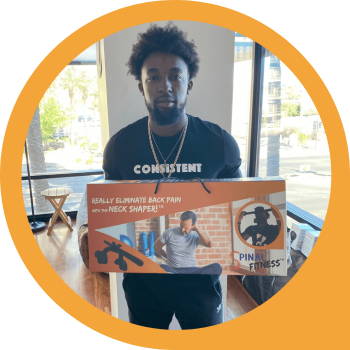 ---
Exercises We Recommend and Exercises to Avoid
Learn the importance of quality training and what makes Spinal Fitness an essential part of any exercise and treatment program.
How to do the Sit-Up
The sit-up can be performed over a specifically designed exercise support fulcrum called the Posture Corrector Cushion, or a sleeping bag. Learn how to do a proper sit-up in this guide.
How To Do the Spinal Twist
The Spinal Twist enables the middle of the spinal discs to return to a fluid state. In this "gelled state", the spine can best be "molded", with the use of the neck and back shaper spinal brace supports. This allows the spinal muscles to relax, so your whole body is prepared for restful sleep.
How to do the Pelvic Tilt
The purpose of this exercise is to support a strong lower back that is orthopedically correct. This can also help to treat pathologies, including out-of-place bones or bulged discs that can cause pain, pinched nerves, and/or disability.
How to do the Neck Flexion
This exercise supports movement through a range of motion (while in an upright position) to develop resistance from horizontal forces against the neck muscles. Your lower back should develop a curve if you correctly perform this exercise.
How to Evaluate Spinal Curvature and Athletic Ability
This guide provides a scientific way to determine if you have underlying poor spinal posture that could put you at risk of injury. Dr. John S. Scherger used these principles to consult with professional NFL teams to pick superior athletes and taught them how to get and maintain the Correct Neutral Spine.