The Creatrix Solutions soft foam rollers for the neck and low back are ideal for anyone new to our exercise products and also individuals with an injury, back pain, or spine issue. Chiropractors and physical therapists recommend starting their patients on the soft blue foam rollers until pain or alignment has improved. The individual can then graduate to the medium-density orange foam roller for greater alignment and stability.
What Makes Our Foam Rollers the BEST?

Our soft foam rollers are comfortable, have a deep groove, and are high quality. The soft blue foam is not only squishy, making it comfortable on even an injured back or neck, but also durable, allowing it to hold up under body weight. Unlike other foam rollers that sag, curve, or break down over time, all of our foam rollers are made from high-quality foam that maintains its shape.
Comfortable
Squishy Surface Allows the Vertebrae Joints to Stretch, Relax, & Rebalance

Deep Groove

Guides the Bones & Opens Nerve Canals to Increase Nerve Signals

High Quality

Acts Like a Spinal Brace that Molds & Reshapes the Spine
Low Back Soft Foam Roller Sizes
---
Neck Soft Foam Roller Sizes
---
Not Sure What Size You Need?
---
To help new customers determine the foam roller sizes and densities that are best for their neck and low back, we created a Sizing Kit. Click "Learn More" for our special introductory offer!
---
---
How to Use Our Foam Rollers
---
Check out what's being said on social media: #CreatrixCurve #ShapeAway #LetItFloat

Our customers include chiropractors, physical therapists, medical professionals, patients, elite athletes, and more, including Luke Rockhold, Tyson Ross, Nate Diaz, Nick Diaz, Gilbert Melendez, Matt Rife, Taylor Motter, Jet Johnson, Ian Gilbaut, Greg Vaughn, and J L Skinner.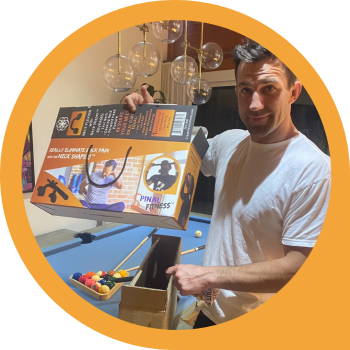 Luke Rockhold, Two-Time World Champion, UFC Fighter
Luke Rockhold uses Creatrix Solutions products, including the Neck Shaper, Foam Rollers, Back Trac, and Power Cushion, to return from injury, avoid surgery, and train for his upcoming fights! Go Luke!!!