Increase Your Oxygen Levels with the Breathe Safe Portable Plasma Air Purifier and Ion Generator

The Breathe Safe™ is a portable, compact, and easy-to-use air purifying and plasma producing device that immediately attacks, reduces the amounts, or entirely eliminates, even the smallest health hazards as soon as it gets turned on. It generates millions of negative ions. with a small amount of positive ions, and also adds 70-118% more oxygen to your personal space in as little as 5 minutes!
The Breathe Safe process releases energy that reduces:
volatile organic chemicals and compounds
particulates
spores
odors
dust mites
The Breathe Safe also helps neutralize:
---
The Breathe Safe is a personal space air purifier that's not like any other on the market. Watch this video to learn how it works!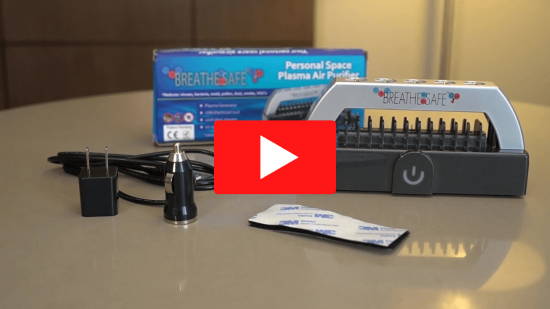 Learn how to operate and clean your Breathe Safe to ensure extended life of your air purifier and continue to breathe clean, fresh air for years to come!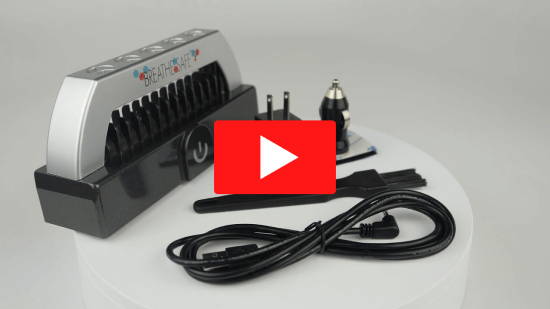 ---
How Can the Breathe Safe Help?
Due to the toxicity of the world today, we are inhaling increasing amounts of dust, bacteria, mold and VOCs (volatile organic compounds). Continuous exposure to these hazards makes us sick, and they are not just in the air, but everywhere - on our keyboards, phones, and tables. Plus, constantly staying indoors, aging, and leading a sedentary lifestyle results in oxygen levels in our body being reduced by up to 20%.
You can easily increase the effectiveness of your breath work and breathing exercises by using the Breathe Safe, which also generates plasma, and thus reduces the stress response of the body caused by exposure to harmful chemicals. It quietly and promptly cleans the air and removes the daily toxic load placed on the human body without creating hazards, such as super bugs. The Breathe Safe repeatedly robs hydrogen molecules from pathogen protein surfaces and does not create resistance or harmful mutations in the process. You can also use the device with the Sauna Fix® near infrared sauna, or inside an existing home sauna, since it safely and efficiently operates inside sauna enclosures. Studies prove that negative ions added to a sauna session enhance the benefits of NIR therapy by 300%, and operating the Breathe Safe in a test chamber slightly larger than the radiant Sauna Tent for 30 minutes helps inhale 56,000 negative ions per cubic centimeter of air. The Breathe Safe can be powered from a USB outlet, a wall outlet of any voltage, or a car cigarette lighter. It consumes only 2W of power, is lightweight (11.1 oz), does not require complicated maintenance, and is CE and ROHS certified. Shop the Breathe Safe and its optional accessories with the product links below.
---
"I would NEVER be without this device! It has made such a huge difference in the quality of my life."
"I have been using this product non stop since I received it and have been thoroughly impressed. Before when seasons would change I always seemed to get a cold. Now I never have to worry about that."
"I have severe sinus problems, constantly blowing my nose due to allergies to dust, mold and pollen. This unit really helps! I noticed an improvement within a few days of using it."
"I use my Breathe Safe about 10 to 12 inches from my face at night during spring allergy season, I put it on my night stand and lean it up against a book, so it's pointing towards my face, what a refreshing relief to breathe well again!"
"I have to tell you that the leg and arm tumors, eczema like terrible terrible skin itching and oozing and scars that I have have been so incredibly better. I literally can't thank you enough!!!"
---
Breathe Safe & Accessories
The Breathe Safe is a portable oxygen booster and plasma generator that produces millions of negative ions that act as air cleaning agents. It helps increase oxygen levels in your home or car by 70-118% in only five minutes and is great for generating anions during your sauna sessions.
---